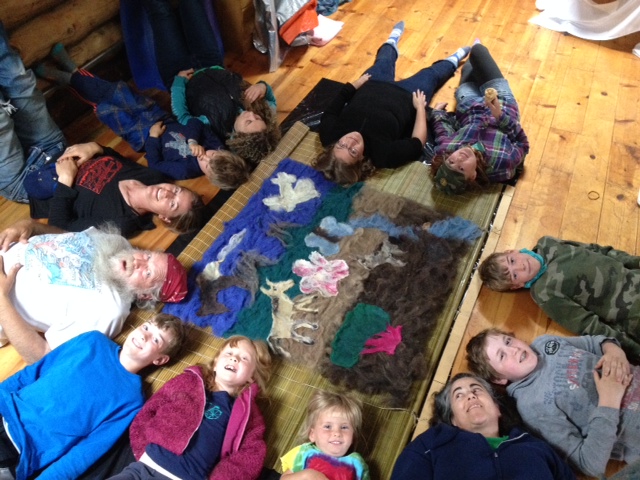 Mountain Arts for Youth: programs invite school aged youth to join artists and naturalists for a series of summer arts workshops for kids designed to connect them with the natural world around them. Program Director Lara Applebaum. $5 per participant. All programs meet from 1-4 pm at Porphyry Place in McCarthy, unless otherwise specified.
Friday, 6/28: Ecosystem Expedition - Science Illustrator Kristin Link will share her experience working with marine biologists and oceanographers studying zooplankton off the coast of Oregon and Northern California. Explore our local watershed and make artwork about the organisms that are so important to our ecosystem.

Friday, 7/5: Kids Making History - For the 9th year running, The WMC will partner with the McCarthy-Kennicott Historical Museum for this exciting event. Join museum volunteer John Rice at 1 pm at the McCarthy-Kennicott Historical Museum to look at what kids did back when McCarthy was an active mining town. Back at the WMC, the group will document their own stories. This information will be archived at the museum--helping to create a living document of today's Kennecott Kids. All ages of children are welcome to join us in learning about McCarthy while also documenting their own moments in history!

Monday, 7/8: Nature's Blueprints - Art Educator Robin Child will utilize one the earliest photographic processes, the cyanotype. Using both natural and manmade found objects, participants will explore the physics of light and use negative space and shadow to create compositions to develop a field journal.

Friday, 7/12: Archeological Intrigue - NPS archeologist Lee Reininghaus and Allyson Pease will introduce fundamental concepts of archeology. Explore scientific field techniques used to identify and document past human culture.

Monday, 7/15: Nature Mosaics - Join outdoor enthusiast Ashley Bobowski in the creation of natural mosaics. Use collected stones and twigs to paint and design your personal creation inspired by the Wrangell Mountains on a piece of weathered wood.

Friday, 7/19: Have fun learning about geology with WMC's own geologist, Ann Robinson. Enjoy a range of interactive activities that will help you understand the fun subject of geology.

Monday, 7/29: Arctic Acrylics - Copper Basin artist Naomi Young will share techniques for painting with acrylics on canvas. Painting composition will include a polar bear in fireweed.

Friday, 8/2: How do Animals use Electricity? - Join educator Cynthia Shidner to learn how different animals (including humans) naturally utilize electricity. Participants will conduct electrical experiments.
July 30-August 2– Youth Geology Camp- As a part of the Mountain Science for Youth programs, the WMC and the Wrangell Institute for Science & Environment (WISE) are teaming up to offer the fourth annual Youth Geology Camp, for youth ages 12-18. Kids will explore and learn about natural formations, milling history, and wilderness camping on the banks of McCarthy Creek and the hillsides of Kennecott. Contact stef@wrangells.org to learn more.
Banner Photo: Nathaniel Wilder